Select for Price
As low as
$44.02
CAT#: TREMH-NT - Mini Hopper only
CAT#: TREMH-6 - Mini Hopper with 6 foot long trunk
CAT#: TREMH-6T -6 foot long replacement trunk
NEW & IMPROVED!
The Deslauriers Mini Hopper attaches to the end of a ready mix chute to distribute concrete easily and accurately.

Supplied with a 6 ft. long 8" diameter elephant trunk.

A seamless one piece design with an intergrated flange makes it easy to attach the trunk using a stainless steel tremie clamp (tremie clamp, CAT# TRE-CL, is included).

Sturdy, lightweight and molded from high density polyethylene.

Equipped with sturdy chains for hanging in place.

Patent #: 9,856,085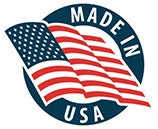 "Since the use and installation of the Deslauriers' Mini Hopper is beyond the knowledge and control of Deslauriers, the proper use of these products is the responsibility of the user and used only under the supervision of the jobsite and safety manager. The user should be familiar with appropriate codes and safety regulations."
---
Compare Products
You have no items to compare.
My Wish List
Last Added Items
You have no items in your wish list.