Select for Price
As low as
$101.76
CAT#: PC-2T -2 ton coil; 4" dia
CAT#: PC-4T -4 ton dog bone; 6" dia
CAT#: PC-8T -8 ton dog bone; 6" dia
QTY: 50/CTN
Use Patch Caps to cover the recess voids that house lifting assemblies. Patch Caps eliminate the need of mixing expensive mortar mixes and the use of costly skilled labor.
The Deslauriers' Patch Caps are designed to snap into place, are precision molded in the USA and made from chemical resistant high impact plastic.
Available in three sizes to fit the standard 2 ton coil, 4 ton, and 8 ton dog bone.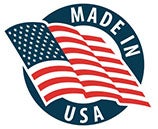 Compare Products
You have no items to compare.
My Wish List
Last Added Items
You have no items in your wish list.