Deslauriers is committed to promoting sustainability.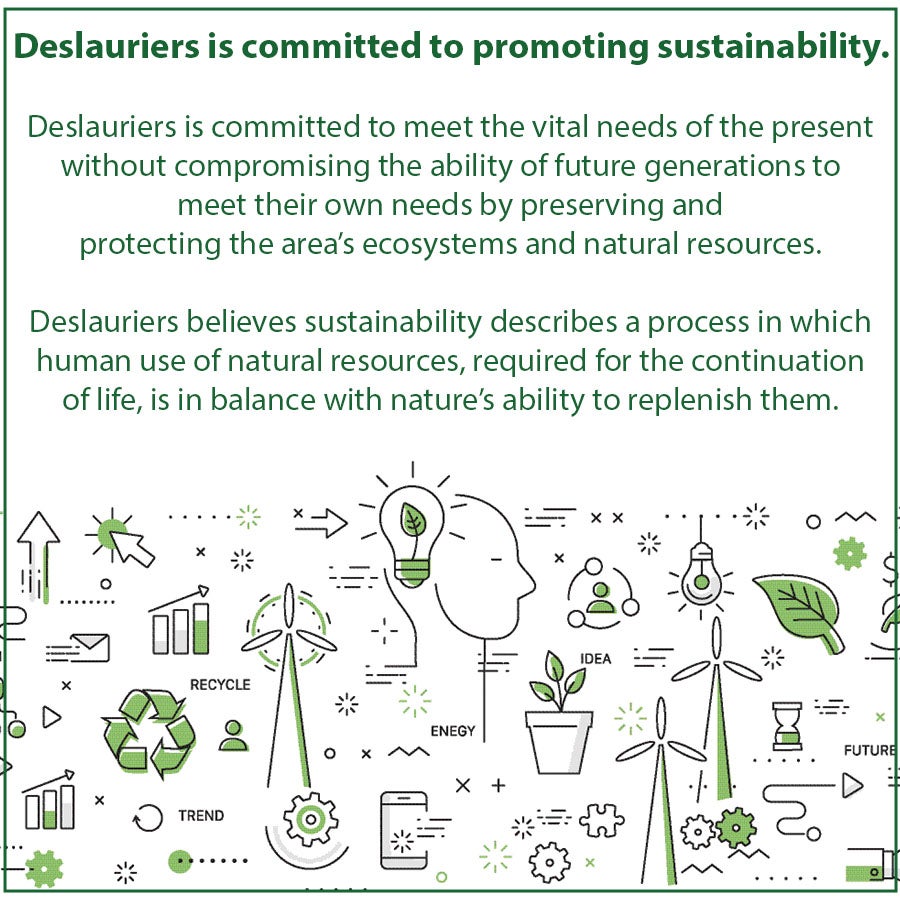 ---
Deslauriers is committed to promoting sustainability.
There are some pretty cool things happening in the manufacturing industry when it comes to sustainability. We applaud the choice that brought you here and encourage you to learn more about this initiative.
Read our full sustainability statement below:
Deslauriers is committed to meet the vital human needs of the present without compromising the ability of future generations to meet their own needs by preserving and protecting the area's ecosystems and natural resources. Deslauriers believes sustainability describes a process in which human use of natural resources, required for the continuation of life, is in balance with nature's ability to replenish them.

Learn about our sustainability principles:
-To meet our compliance obligations including all applicable legislation, regulations, codes of practice, and industry best practices.
-We will use recycled or reprocessed material whenever possible to minimize or reduce our environmental impacts.
-We will continually review and develop our manufacuring and business practices to improve our sustainability performance.
-To ensure that all Deslauriers employees are fully aware of our sustainability principles and are committed to implementing and improving it.
-To make clients, suppliers, and distributors aware of our sustainability principles and encourage them to adopt sound sustainable management practices.

Check out what we are doing here at Deslauriers and our sustainable actions.
-We are proud to make the ONLY Bio-Degradable Test Cylinder on Earth. By choosing to purchase Deslauriers Test Cylinders & Lids you are helping to reduce the harmful impact of plastic on our environment. Learn more about our Bio-Degradable Test Cylinders and Lids.

-We are proud to offer Electronic Delivery for invoices and statements. Paperless Billing is efficient, eco-conscious, and easy. Small steps can have a big impact. Going paperless can really make a difference in your office workflow. Think about it. You'll have fewer invoices on your desk and fewer bills to file, month after month after month. The time savings can really add up. Plus paperless billing means you'll cut down on your paper usage and help reduce your carbon footprint. It's an easy way to start your business down a path towards greater sustainability. If you are not already signed up for paperless billing, please email us at customerservice@deslinc.com and we would be happy to set your company up with this service.

More information coming soon on our sustainability efforts and actions.
My Wish List
Last Added Items
You have no items in your wish list.